New Hire Timeline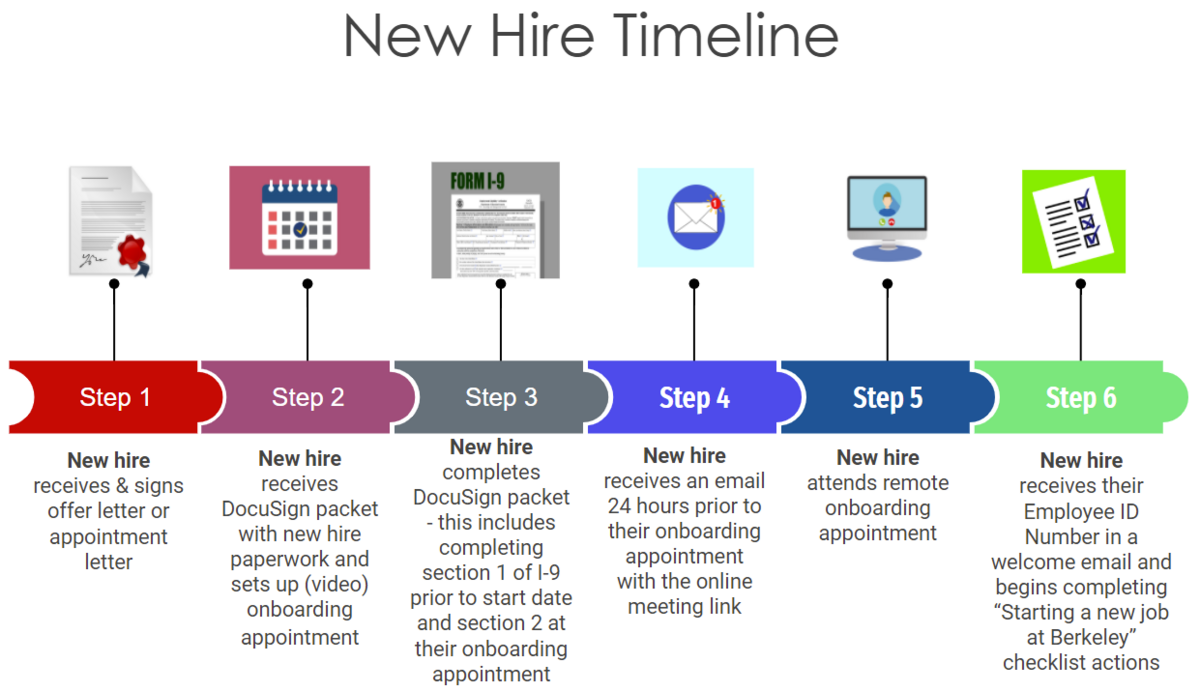 General details about Onboarding Services from the BEST Region
Beginning 10/1/2022, the BEST Region "officially" began providing onboarding services directly to new/rehired Berkeley employees for the campus departments and units they serve. The following goals are in place:
Improved logistics - Employees are able to schedule their video-based onboarding session, to verify their work authorization documentation) Monday thru Friday, with appointments between the hours of 9AM-5PM. 
Decreased handoffs - The onboarding processes will be perfomed and completely managed by the BEST Onboarding Team. This consists of the hiring paperwork as well as the verification of compliance documents such as Federal Form I-9 and the University of California Oath and Patent.
Increased employee satisfaction - BEST aims to provide a streamlined process that will be continuously improved to ensure the new employee and their hiring department have the support they need.
Reduced risk and lost productivity - BEST is working to increase compliance with federal, state, and University policies, to ensure timely pay and reduce the setup time for new employees to access various campus systems.
Online Timesheets (CalTime)
CalTime is the campus online timekeeping system used by most job titles.
Access the CalTime website to enter and approve your yours, vacation, sick, and other leave time. You can also review tutorials on the CalTime page to learn more.
Not sure how to submit your time?
Manual Timesheets
Those who cannot access CalTime or another appropriate online timekeeping system, please print and submit a "manual" timesheet to your supervisor.
Reader/Tutor Timekeeping
Are you a Reader/Tutor who is paid monthly? You may need to enter and submit your timesheet each payroll deadline using the Reader/Tutor Timekeeping App at: time.berkeley.edu.
Typically, this is the case for monthly paid Lecturers who also hold a Reader/Tutor position. They would use the App as well as other titles with unique circumstances on a case-by-case basis. For help, contact your BEST Regional HR Partner or Generalist.